A team of two students — Selina Cozzupoli and Tiana Noce — has made it to the Top 10 in the 2018 Canada's Next Top Ad Executive (CNTAE) competition, the largest and most competitive experiential program and competition of its kind in Canada. Both students are learning Marketing in York University's School of Administrative Studies (SAS).
"We are very happy that Professor Pallavi Sodhi introduced us to the CNTAE contest. It has been an amazing experience thus far, helping us push our limits and explore elements of a marketing plan that we had not had practice with prior," says Cozzupoli, who is majoring in Film and minoring in Marketing.
Cozzupoli and Noce will compete against the other nine remaining teams from Queen's University, York's Schulich School of Business, the University of Toronto and the University of British Columbia.
According to Sodhi, who teaches Advertising and Brand Management in SAS, CNTAE "has empowered students to take charge and experiment with learning outside the classroom. I have had the opportunity to be a judge in this competition since its conception and each year, it amazes me to see some of the bright ideas that students put forward," he says. "This year there were 142 submissions from 25 schools across Canada. It has been a tough competition and the best of the best have made it to the Top 10. You need the skill, the will and the desire to succeed, plus an endearing commitment that makes you stand out from the rest. I continue to recommend all students interested in pursuing a career in marketing to participate in this competition."
"We definitely would recommend participating in the contest. Its experiential marketing element is very beneficial for anyone looking to enter the advertising stream," says Noce, who is enrolled in a Marketing Certificate while majoring in Communications Studies. "The CNTAE's slogan, 'Hard work meets crazy reward,' hits the nail on the head. But, what else would you expect from an advertising contest run by marketing students?"
Noce and Cozzupoli continue to work hard as they gear up to present their innovative marketing ideas to launch the new affinity loyalty program from this year's lead sponsor, Canadian Tire, who is awarding $30,000 to the winning team. Other sponsors such as PepsiCo, McDonald's, Fuji Film, or Labatt are also awarding prizes.
Come and see Noce and Cozzupoli in action and support York's SAS team on March 26, 2018 at The Omni King Edward Hotel. For more information and tickets, visit the event page.
The support of New College helped make the students' participation possible.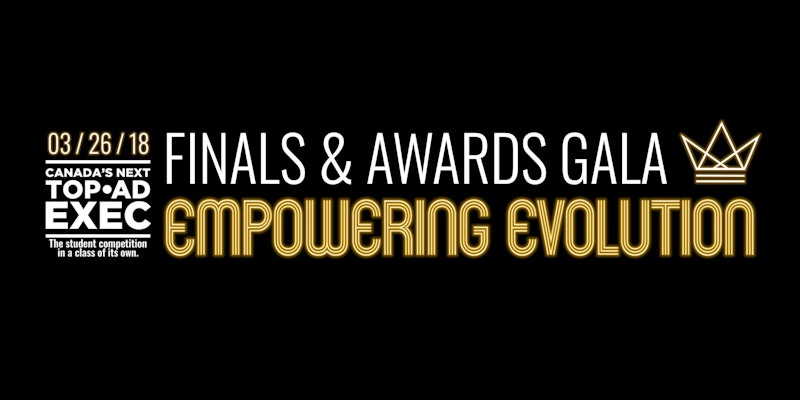 About the Competition
Canada's Next Top Ad Exec allows students to gain real-world business experience, giving them a competitive edge. This is the 12th year of the competition, created and hosted by DeGroote's School of Business. To date more than 60 Top Ad Exec competitors have been awarded internships at major corporations and more than $500,000 in prize money has been awarded.