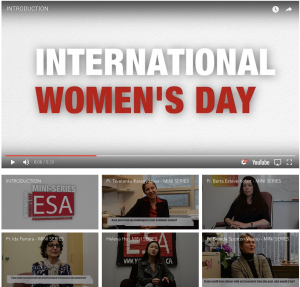 The Economics Students' Association (ESA) honours International Women's Day with a video miniseries, featuring five York professors from the Department of Economics in the Faculty of Liberal Arts & Professional Studies.
The featured economists are department chair Ida Ferrara and fellow professors Tsvetanka Karagyozova, Berta Esteve-Volart and Brenda Spotton Visano, and economics undergraduate student Helena He.
"I discovered economics at university, having focused my high-school years on humanistic subjects, such as philosophy, history, literature and classic languages, but I have grown quite passionate about it," says Ferrara. "Over the years, I have come to appreciate how the tools of economic analysis shape and contribute to the ways I assess and analyse problematic situations with an eye on finding solutions. I find economics to be a fascinating discipline: as a social science, it focuses on human nature and decision making, the understanding of which I view as fundamental to healthy relationships and societies; in approaching decision making, it relies, however, on the scientific methodology."
As for her role as an educator, "When you are passionate about a subject, there is nothing you would welcome more than the opportunity to share your passion, and teaching does provide for such an opportunity," she says. "I feel a sense of pride when I reflect on how I contribute, as an educator, to the final stage of my students' overall development before they step completely into the real world to find their place, trusting to be ready to navigate through the ups and downs of life."
It was a passion for economics that led Alumna Fatima Betty Niane (Economics '17) to start the miniseries while she was the chief returning officer of the Economics Students Association. She now serves as the founder and editor-in-chief of Econalyze, an undergraduate economics journal at York University that will be launching for the first time this year.
Niane was inspired to create the miniseries after reading Frances Weetman's article, "Where are all the women economists?" Weetman is also the 2017 winner of Virago/New Statesman Women's Prize for Politics and Economics.
"I became curious and wanted to help answer Ms. Weetman's question," says Niane. "We, the Economics Students Association, created the miniseries to showcase the scholarship of women in our department. We already had an amazing relationship with many faculty members and organized ongoing research seminars. International women's day came around and it seemed only fitting to ahead with a mini-series like this one."
ESA members also involved in the production include information technology student Awa Diallo, Economics alumnus and ESA president (2016-17) Fahad Nisar Rana, financial & business economics alumnus Moisės Valdez, and economics student and ESA vice-president of financial affairs Daniel Thevarasalingam.
"Women remain a minority in economics departments in Canada. We wanted to show fellow undergraduates students how diverse and interesting the research in economics was in our own Faculty. Although we highlighted women specifically, it was about engaging undergraduate economics students with economic thought beyond the classroom, so they can perhaps discover ideas they would want to explore. The core of our mission is to develop the community with intellectual, relevant and creative content," says Niane. "Economic questions are central to our daily lives, at the macro and micro level. It is important to know that half of the population — women — do ponder on, give answers to and participate in economic debates. We should encourage this in all fields."