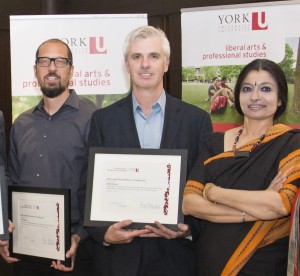 The Faculty of Liberal Arts & Professional Studies recognized our very best professors — and a teaching assistant — who have made outstanding contributions to teaching and learning in our undergraduate programs. Launched in 2014, the Dean's Awards for Excellence in Teaching celebrate faculty members who integrate innovative techniques and actively engage students in the learning process. The awards are given in three categories: Full-Time Tenured Faculty, Contract Faculty and Teaching Assistant.
Congratulations to the winners of the 2015 Dean's Awards for Excellence in Teaching:
David Doorey, School of Human Resource Management (Full-Time Tenured Faculty category)
Dr. David Doorey's students meet the high standards that he sets thanks to his engaging, interdisciplinary and innovative teaching style. In his own words, "I am fortunate because despite years of academic and professional experience in the field, I continue to find the material endlessly fascinating. I work hard to convey this enthusiasm and energy to students in the classroom." Read More
Robert Heynen, Department of Communication Studies (Contract Faculty category)
Dr. Rob Heynen has the invaluable ability to capture his students' attention, whether teaching a class of a few or lecturing to hundreds. Just as he educates students, he credits them with informing the evolution of his approach to teaching. "I have come to value teaching as the most rewarding, challenging and enjoyable aspect of academic life," he says. Read More
Caitlin McKinney, Department of Communication Studies (Teaching Assistant category)
Dr. Cait McKinney's classroom is a supportive space for students to become creative and intellectual risk-takers. She fosters what she calls "intellectual empathy" where she builds her students' critical skills by encouraging them to understand and apply perspectives other than their own. McKinney won while completing her PhD in Communication and Culture. Read More

Congratulations to the winners of the 2014 Dean's Awards for Excellence in Teaching:
Michael Gilbert, Department of Philosophy (Full-Time Tenured Faculty category)
Professor Michael Gilbert is committed to deep and sustained student learning. He connects with students on an individual level and relates course material to their everyday lives. Gilbert uses transformative learning methods that challenge students to think beyond the walls of the university. His creative teaching strategies encourage students to explore the curriculum in depth and to share their new knowledge with their peers. "I assume students want to learn. I try to get everyone to feel engaged, to connect with them on an individual level," he says. Gilbert is a leader in pedagogy and curriculum development and has lectured extensively in the U.S. and Mexico. He is also renowned for his research on sex and gender theory.
Elizabeth Brulé, Department of Equity Studies (Contract Faculty category)
Professor Elizabeth Brulé draws her students into the heart of critical social issues through innovative teaching techniques. Her students conduct socially relevant research with community organizations where they find out first-hand how these organizations work towards their goals. As Brulé says, "The students inspire me. When you challenge them to think outside the box, they really love it; when you respect them and their learning processes, they rise to the occasion." Brulé is a vital member of the academic community at York, sharing her expertise with colleagues through workshops, speaking engagements and conferences.
Lisa Violo, School of Administrative Studies and School of Human Resource Management (Contract Faculty category)
Professor Lisa Violo uses experiential learning techniques to prepare her students for the workplace. In her classes, students acquire deep theoretical understanding and practical knowledge that stays with them long after graduation. A professional learning consultant, Violo brings to class case studies, training videos and guest speakers that give students practical benefits. "I learn as much from them as they do from me," says Violo. A lifelong student, Violo continues to pursue other degrees and professional credentials to further her personal growth and her positive impact on students.
Yael Machtinger, Department of Social Science (Teaching Assistant category)
Teaching Assistant Yael Machtinger makes it a point to get to know all of her students and help them unleash their potential. She has the ability to connect with first-year students and help them become confident learners. Machtinger's teaching techniques include Read, Round and Review, in which students zoom in and out of different concepts and learn to connect these with the course's overarching goals. Machtinger, who also received a President's University-Wide Teaching Award, says, "My goal is to help students actualize their potential and become who they want to be. Seeing them grow towards this makes me want to be a better teacher."