Kinnie Starr "our divide is inside us"
Date: Tuesday, November 20, 2018 | Doors at 4 pm | Performance at 4:30pm sharp
ALL WELCOME
Location: Sandra Faire & Ivan Fecan Theatre Accolade East Building, York University Keele Campus
The Kitty Lundy Memorial Lecture seeks out an individual whose scholarship and creativity address principles to which Kitty Lundy exhibited commitment: engaged learning, equity and social justice, interdisciplinary exchange, and the dissemination and exchange of ideas and knowledge with communities residing within and outside of York University.
Register now using our online RSVP
In this year's Kitty Lundy lecture we have invited visual artist, musician, author and spoken word artist Kinnie Starr to speak with and perform for the York University community. Kinnie Starr's career has taken her around the world -- across Canada, the U.S., Europe and Asia, but she is first and foremost an artist and activist. Her activism began before her career in music as a visual artist, and her current visual work continues to touch on her areas of interest: race, home, family and humanity. Most recently, she collaborated with director Stephanie Clattenburg on the 2016 documentary, Play Your Gender, which explores the realities of being a woman in the music industry, a business in which fewer than 5% of producers are women even though many of the most bankable stars are female.
Her upcoming 2018 album, Feed the Fire, comes out of much reflection done in the aftermath of a taxi cab collision that resulted in a brain injury. Her road to recovery deepened her interest in the nature of communication in an era where immediacy is king and anxiety disorders rise alongside extroversion and "urgent" digital chatter. Feed the Fire is a critical look at where we are at in our relationships to the screen, to our faiths, and to each other: our devices allow us to stay up all night viewing porn, fighting for likes or hype on social media, tailoring our public personas as a means of delivering toxicity...or warmth. Feed the Fire is about hope and despair in perilous times and reconnecting with our truest selves. Her lecture will include a musical performance and readings from her book How I Learned to Run, as well as excerpts from a talk on kindness that will part of her forthcoming book called Radiant Voices.
2018 Lecturer: Kinnie Starr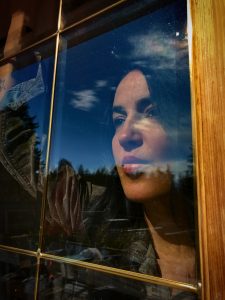 Kinnie Starr is a published author and illustrator (How I Learned to Run, 2008, House Of Parlance). She has worked in youth arts activism and mentorship and teaches a playful self-esteem boosting "Auntie Kinnie's Rap Skool", a literacy-focused, rhythm-based, and uplifting hip hop program aimed at helping LGBT and First Nations youth - and ALL kids - find their voice and power.
​Born and raised in Calgary and university educated in Ontario, she now calls Sechelt, BC home.
The Kitty Lundy Memorial Lecture
The annual Kitty Lundy Memorial Lecture honours the late Kitty Lundy, an admired educator of sociology who was associated with York's former Atkinson Faculty of Liberal Arts & Professional Studies from 1986 to 1989. Wide-ranging in her accomplishments and interests, Ms. Lundy felt particular concern for the fields of education, occupations and women's studies, and demonstrated a keen commitment to students pursuing their studies on a part-time basis. To honour her memory, the Lundy family established the Kitty Lundy Memorial Fund, which supports the annual lecture.