Community engagement is at the heart of the Faculty
Through Global and Community Engagement the Faculty of Liberal Arts and Professional Studies (LA&PS) is committed to building strong and inclusive communities at the local, national and international level, allowing us to arrive at deeper understandings of complex global issues that face our society.
We will strengthen and establish local and global collaborative networks and make our spaces accessible to promote critical dialogue and signature engagement strategies. In partnership with the community we will define a broad spectrum of community initiatives and practices that represent our commitment to diverse forms of knowledge production. This will be accomplished through dialogue, critical think tanks, seminars and other forms of knowledge exchange in an array of programs. The strength of our diversity will be manifested in our recognition of power imbalances that exist within and among us, enabling us to work together from a position of mutuality and reciprocity.
We will be vibrant and progressive in our collaborations by upholding our responsibility to build an inclusive democratic society as active and engaged citizens.
Two new initiatives include our Community Conversations and our new LA&PS Internships program.
Featured Community Engagements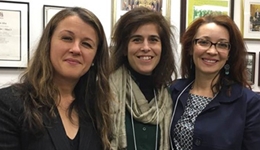 Community Conversations is a new initiative designed to encourage stimulating, inspiring and inclusive dialogue among different communities on local and global issues that matter most to them. The first conversation in the series was titled "Youth, Higher Education and Community Engagement in the Portuguese Community."
Learn More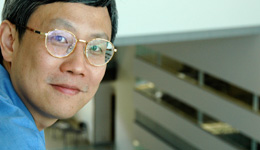 An interdisciplinary team of researchers led by Jimmy Huang, professor of information technology, launched its 2016 ADERSIM summer series of collaborative training and research activities to prepare professors, post-doctoral fellows and graduate students in managing large-scale emergencies.
Learn More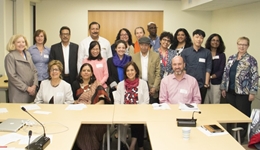 York University partnered with India's Jamia Millia Islamia (JMI) University in New Delhi to host the second Global Dialogue on Ethics and Internationalizing Higher Education. The June 8 event at York University attracted academics from around the world, some of whom participated by live, two-way video link using York's pioneering trial of Zoom conferencing technology. Learn More
York University students studying in Seoul, South Korea, this 2016 summer term are returning home with a unique international outlook. On June 5, students enrolled in a third-year Faculty of Liberal Arts & Professional Studies political science course completed their four-week study abroad course on contemporary South Korean politics and social change. The students explored palaces, fortresses, museums, workplaces, university campuses and other sites in the mega-metropolis of Seoul. Learn More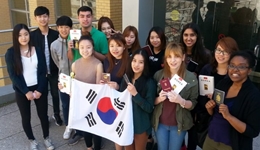 York University students are living in Seoul, South Korea, during part of the summer term to study the country's rapid change over the last five decades. These students are enrolled in the third-year political science course, "South Korea: The Politics of Compressed Modernity", one of the 11 summer study abroad courses offered through the Faculty of Liberal Arts & Professional Studies in 2016. They departed for Korea on May 7 and 8, and will spend a month overseas. Learn More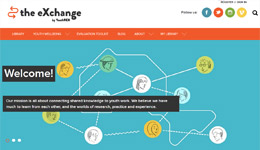 YouthREX at the School of Social Work has launched the eXchange, an online hub for sharing information and ideas to help break barriers unique to marginalized youth. As of March 31, 2016, users can search for and share information — including academic research and resources rooted in both professional practice and personal experiences — in this online space. The initiative is a combined effort to break the many barriers faced by Aboriginal, newcomer, racialized, disabled and LGBTTQ youth and those with special needs.
yFile Article | In the Media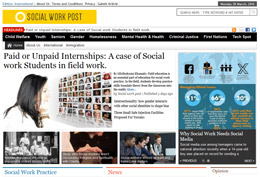 What began as a collaboration of Social Work students in a Critical Social Theory class in 2013 at York University has evolved into an on-line magazine that sends out a weekly newsletter to subscribers across Canada. Social Work Post is an on-line Magazine operated by a volunteer team of Social workers that compiles information, articles and current news stories that pertain to social justice and publish them.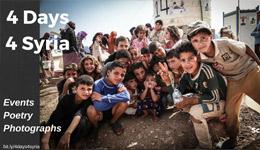 4Days4Syria took place on Feb. 8-12, 2016. This week-long event addressed the trials, tribulations and past experiences of refugees through the medium of artistic expression. Students, faculty and staff learned from York experts and participated in raising over $3,500 for Lifeline Syria and the Department of Sociology and Friends Family Sponsorship Group. In the video, learn about the first-hand involvement of photographer and journalist Hajir Sharifi and watch Spoken Word Poets perform on immigration and forced migration Learn More
Dr. Narda Razack, Associate Dean, Global and Community Engagement, attended the lunar new-year banquet of the Yin Hua (Chinese from India) Association on February 27, 2016. In her speech, she encouraged Yin Hua members to support the fifth Toronto Hakka Conference to be held July 1-3, 2016, at York University. The conference's partners are York University and the local Chinese Hakka community, which immigrated to Toronto from India, Jamaica, Mauritius, South Africa, Trinidad, Malaysia and other ex-colonial countries. The conference theme for 2016, "boundless Hakka spirit," points to serial Hakka migrations as an ideal basis for developing a fully global vision.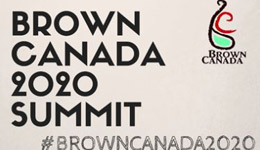 The Brown Canada 2020 Summit took place on December 11, 2015, in Founders College. The annual year-end retreat, hosted by the Council of Agencies Serving South Asians (CASSA), enabled about 150 community leaders and organizations to come together to collectively discuss and build constructive initiatives for the advancement of South Asians in Canada.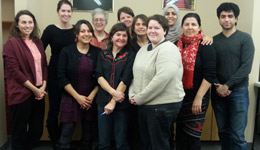 Our first sponsorship team Sociologists and Friends, led by Professor Lesley Wood, has more than $30,000 in hand. They have been matched to a family expected to arrive soon. They have spoken to them in Jordan and are ready to welcome the family with temporary housing.
Learn more about our response to the Refugee Crisis
Author David Margolick reflected on four lives that collided in September 1957 in Little Rock, Arkansas, in the segregated United States. Margolick was joined by local spoken word poets who were commissioned to write and perform poetry inspired by his book. Kareem Bennett, Destiny Henry, Abdulkadir "Moose" Nur, Suviana and DeShawn "DC" Williams performed work that explored the legacy of systemic racism and the relevance of the history of the Little Rock Nine to today.
Learn more and watch the lecture video