Creating spaces to discuss topics that matter
We are committed to engaging meaningfully with the community. Community Conversations is a new initiative to encourage dialogue and discussions on topics that matter and are of keen interest to members of our community. These conversations will be held in a variety of locations across the GTA: cafés, libraries, community centres and anywhere that constructive dialogue can flourish. We hope to create welcoming spaces where people from diverse communities can gather and share their unique insights and experiences.
We hope to bring together the talents, spirit, energy, curiosity and interests of our diverse citizenry to promote inclusive, and inspiring dialogue on current local and global issues that could include history, ecology, the environment, arts, media, urbanism, health, poverty, current socio-economic and political issues, and a range of ideas and topics that inspire critical dialogue and engaging thoughts.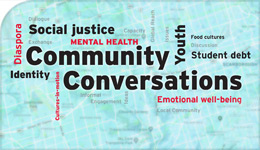 Complete a Community Conversations Application Form to get started.
Read more about our inaugural series of 16 events in our new Community Conversations e-Book.
What is a Guest? What is a Settler?
Date: Wednesday, March 6, 2019
Location: Curtis Lecture Hall B, York University
Time: 3-5 p.m.
Register now
Real Jobs, Living Wages
Date: Saturday, March 16, 2019
Location: Oakridge Community Centre
60 Pharmacy Ave, Scarborough
Time: 4-7 p.m.
Register now
Black Continental Africans in Canada: Exploring Culture, Identity, and the Immigrant Experience
Date: Wednesday, March 27, 2019
Location: Scadding Court Community Centre
707 Dundas Street West, Toronto
Time: 3-5 p.m.
Register now
Date
Topic
Hosts
Venue
October 28, 2018
Black Continental Africans in Canada: Black and Black African Diaspora Relation
Ghana Presbyterian Church, 51 High Meadow Place, North York
October 6, 2018
Remembering Dr. B.R. Ambedkar's Ideology, Philosophy & Teaching
Nivedita Das Kundu
519 Kaneff Tower, York University
April 14, 2018
Talking Climate Change: Challenges & Opportunities for Action
Tyrone Hall
Toronto Public Library, Wychwood Branch
(1431 Bathurst Street Toronto, ON)
March 2, 2018
Mapping out Muslims in Canada: Critical Debates in Academia and Beyond
Nergis Canefe & Azeezah Kanji
Auditorium – Noor Cultural Centre
(123 Wynford Drive, Toronto, ON)
February 24, 2018
"Black Panther", Celebrating Blackness in the African Diaspora
Sylvia Bawa
Fort York Library - Toronto Public Library (190 Fort York Blvd, Toronto, ON)
November 23, 2017
Girls, Identity, Tweens and Teens Series
Part 3: Tweens, Teens and Social Justice
Natalie Coulter & Kisha McPherson
York Woods Public Library
(1785 Finch Ave West, Toronto, ON)
November 2, 2017
Girls, Identity, Tweens and Teens Series
Part 2: Black Girls and Identity
Rowena Linton & Karlene Davis
York Woods Public Library
(1785 Finch Ave West, Toronto, ON)
October 26, 2017
Girls, Identity, Tweens and Teens Series
Part 1: What Does it Mean to be a Tween Girl
Natalie Coulter
Regent Park Aquatic Centre
(640 Dundas St E, Toronto, ON)
July 7, 2017
Cuba en el Siglo XXI: Cultura e Identidad en movimiento/Cuba, XXI Century: Culture and Identity in Motion
Julio Fonseca & Roberta Iannacito-Provenzano
Toronto Public Library - Lillian H. Smith Library (239 College St, Toronto, ON)
June 22, 2017
The Summer of '77: How Emanuel Jaque's Murder Changed Toronto
Gilberto Fernandes
Gallery of the Portuguese Pioneers (960 St. Clair Ave West)
June 15, 2017
Tutti a tavola! Italian Food Culture in Canada
Roberta Iannacito-Provenzano
Vaughan City Hall–Atrium (2141 Major Mackenzie Dr. W, Maple, ON)
June 6, 2017
Resourcing Student Debt Solutions for Strengthening Community Financial Capacity
Brenda Spotton Visano
YorkU-TD Community Engagement Center
May 11, 2017
A Conversation based on the Film: MPA - A Utopian Experiment
Megan Davies
Davenport-Perth Neighborhood Community Health Center (1900 Davenport Rd)
May 10, 2017
My Mind & Me: An introductory Mindfulness Workshop for Youth
Marie-Jolie Rwigema
The Spot (1 York Gate Blvd., 2nd Floor)
May 6, 2017
do we have freewill?
Alexandru Manafu
Studio 303, 401 Richmond Street West
April 20, 2017
Stories of Change: Narrative Practices for Critical Justice Work
Harjeet Badwall
York TD-Community Engagement Center
March 19, 2017
The Greek Immigrant Experience; Then and Now
Sakis Gekas
Pan Arcadian Federation of Canada House
450 Danforth Avenue
February 28, 2017
In Search of Community Emotional Well-being
Wilburn Hayden & Farid Partovi Chaharlangi
2999 Jane Street Community Building
January 31, 2017
A Nation Divided: The November 1916 Battle of Athens and Greece's Entry to Great War
Sakis Gekas
Danforth/Coxwell - Toronto Public Library
November 25, 2016
Youth, Higher Education and Community Engagement in the Portuguese Community
Maria Dodman & Inês Cardoso
Gallery of the Portuguese Pioneers
Conversation is a powerful tool that connects us and provides a unique opportunity for knowledge sharing, human growth and empowerment, and community building. Community Conversations are public, semi-structured and open to anyone who who is interested in the topic. To host a conversation, all you need are people, a topic and a place to meet!
Our events are held twice monthly during the Fall and Winter semesters, in cafés and community spaces across the GTA, and are approximately two hours in length (exceptions may apply). Each conversation is centered on a particular theme or an interesting question. Conversations will begin with the moderator who will lead the conversation with a 10-15 minute introduction to the topic, will monitor time, and who will gently encourage participation. Conversations may also feature guest speaker(s) to share their ideas, experiences and expertise on a specific topic. Essentially, conversations are intended to spark the exchange of ideas!
We are committed to building strong and inclusive communities and welcome the involvement and participation of the broadest group possible. To participate in a conversation, all you need to do is show up and talk. Apply now to host a conversation.
If you wish to suggest a topic, or provide feedback on one of our conversations, we invite you to contact us by email.
Where do conversations take place?
Community conversations are held at familiar and inviting community locations, such as local coffee shop, café, restaurant, public-park, local library, organizations and community centers.
Why conversations and not lectures, workshops or seminars?
We aim to create an open space for the exchange of knowledge and where everyone is a learner. In these settings, everyone is encouraged to share their perspectives, thoughts and ideas, and not be dominated by experts.
Are conversations free and do I need to register?
Community Conversation events are free. Most events do not require registration; however, when a conversation does require advance registration it will be clearly indicated on our website or on posters announcing the event.
How long are the conversations?
Conversations are usually two hours in length.
Do I have to prepare in advance for a conversation?
No. these events are informal and do not require participants to prepare for a conversation. If you are interested in the topic, all you need to do is show up and participate – share your experiences, thoughts and ideas.
Please provide your comments on the Community Conversation you have attended.