The LA&PS Awards for Distinction in Research, Creativity or Scholarship were launched in 2014 to recognize the exemplary work of our faculty members, the impact of their work on academic and social communities, and their commitment to engaging students.
2017 Award Winners
Congratulations to the winners of the 2017 LA&PS Awards for Distinction in Research:
Sylwia Chrostowska, Department of Humanities
Emerging Researcher Category
Professor Chrostowska is widely recognized by her peers for successfully straddling the divide between academic writing and literature.
Alice MacLachlan, Department of Philosophy
Emerging Researcher Category
Professor MacLachlan was is described by her peers as a brilliant research leader. She is also well known as a thought leader in ethics, feminist philosophy and the role of apology in establishing trust.
Joan Judge, Department of History
Established Researcher Category
One of the most respected scholars of modern Chinese history and culture, Professor Judge has influenced an entire generation of historians.
Hassan Qudrat-Ullah, School of Administrative Studies
Established Researcher Category
A highly prolific researcher in the field of decision sciences and system dynamics approach, Professor Hassan Qudrat-Ullah is skilled at mobilizing resources to establish his own innovative research niche.
Luin Goldring, Department of Sociology
Social Justice Research Category
Professor Goldring is the winner of the biennial LA&PS Award in Social Justice Research. Known for her ground-breaking work on the experiences of migrant workers in Canada, she exemplifies the spirit of social justice.
Read the full story on the 2017 LA&PS awards
Past Award Winners
2016 Award Winners
Congratulations to the winners of the 2016 LA&PS Awards for Distinction in Research:
Jonathan Edmondson, Department of History Chair, received the LA&PS Award for Distinction in Research, Creativity or Scholarship in the Established Researcher category. He is world-renowned as an expert on the Roman Empire, Roman inscriptions and Roman social history. His body of work, as well as his strong commitment to sharing his research, has shed light on the Roman world for scholars, students and the public.
"I'm excited about my research on the Roman Empire, especially Roman Spain, because it's given me access to a range of new monuments with inscriptions, previously unpublished, that have the potential to throw new light on the impact of Rome on Indigenous societies," said Edmondson. "Although people have been studying the Roman Empire for centuries, we can always pose new questions about, and gain fresh insights into, the Roman world."
Boyd Cothran, a history professor, was honoured in the Emerging Researcher category. He will be presented with his award in the Winter 2017 semester. Since earning his PhD four years ago, he has achieved an outstanding record of scholarly research in the growing field of Indigenous history. His work, shared in both academic and public venues, is reframing the U.S. narrative and places Indigenous history at its centre.
"What excites me the most about the growing field of Indigenous history is how we are rewriting the history of North America by reclaiming the central role Indigenous peoples have played in the development of our shared society," said Cothran. "For too long, historians wrote histories of North America that ignored Indigenous people, denying them a history and by extension a future. Indigenous history is an exciting field because every day it seems like there are new stories being discovered and new perspectives on old subjects being shared."
2015 Award Winners
Congratulations to the winners of the 2015 LA&PS Awards for Distinction in Research: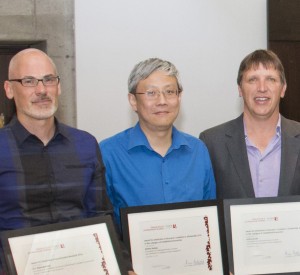 Sean Kheraj, Department of History
Emerging Researcher Category
Dr. Sean Kheraj is being recognized in the Emerging Researcher category for his inspiring scholarship and his academic and public reach. Since defending his dissertation in 2008, he has been exceptionally productive, innovative and dynamic as a Canadian environmental historian. Read More
Jimmy Huang, School of Information Technology
Established Researcher Category
Dr. Jimmy Huang, Director of the School of Information Technology, is known for his expertise and creativity in the quickly changing fields of information retrieval and big data analytics with complex structures. Since 2003 Professor Huang has had a remarkable publication record of over 170 papers in the most respected journals and top-tier conferences in information technology. Read More
Lesley Jacobs, Department of Political Science, Department of Social Science
Established Researcher Category
Dr. Lesley Jacobs is recognized nationally and internationally for his interdisciplinary research in the fields of law, socio-legal studies, social science and political science. His areas of expertise include international trade, human rights, race relations, and law and political theory. Read More
Eric Mykhalovskiy, Department of Sociology
Distinction in Social Justice Research
This is the first year that we are presenting the Award for Social Justice Research in LA&PS. This new award acknowledges an academic career that exceeds expectations, while making substantial contributions that advance social justice in any form. Dr. Eric Mykhalovskiy is the winner of the inaugural Social Justice Research Award for his research in the sociology of health and healthcare. Read More
2014 Award Winners
Congratulations to the winners of the 2014 LA&PS Awards for Distinction in Research:
Our first winner in the Established Researcher category is Linda Peake, professor in the department of social science and director of York University's City Institute. Sociology Professor Lesley Wood won in the Emerging Research category.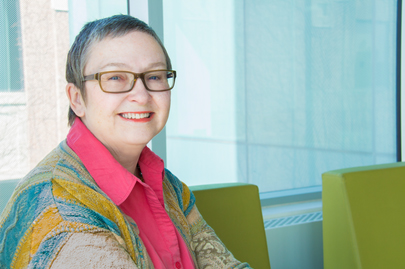 Peake describes herself as a critical human geographer, exploring the feminist geographies of gender, race and sexuality, particularly as they relate to the global south. Over the past 30 years she and
her graduate students have worked extensively with grassroots organizations in Guyana, conducting research aimed at improving the lives of local women.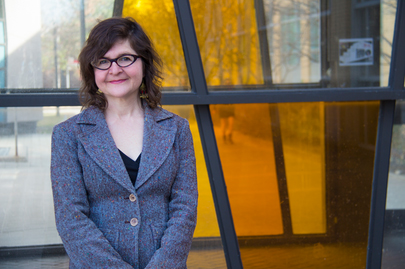 Wood's research marries theory with social activism, examining the complex dynamics of social movements through a variety of lenses. Wood's research has included surveying G20 protesters in the thick of a demonstration, interviewing activists about their organizational and strategic choices, studying the impact of policing on protest and examining the characteristics of the U.S. anti-war movement.
Read more about Linda Peake and Lesley Wood on pages 12-13 of our LA&PS 2013/14 Year in Review.