Some of the brightest minds in the world are learning and growing at York. Can you spot the leaders of tomorrow? More importantly, can you help shape them?
Inspire your organization with the fresh perspectives and valuable insights of LA&PS Experiential Education students. Help them gain an understanding of your organization and its objectives. Demonstrate the unique challenges your organization faces. Then partner with them as they apply their training and develop solutions for your needs.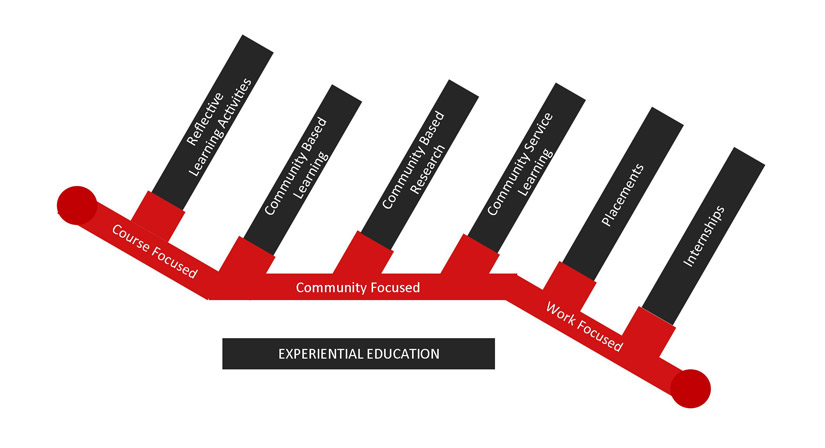 Organizations of all sizes, across all industries and within driving distance of York's Keele campus are encouraged to apply online. Your role varies with each type of EE Activity or Project. For more information please contact our EE Coordinator at eelaps@yorku.ca.
Reflective Learning in the Class and within the Community
Be a Guest Speaker in the classroom to give your perspective on a key issue in the course.
Participate in an interview conducted by our students to share insights about your field.
Community Based Learning & Community Based Research Projects:
Collaborate on a project within a course with students who will address your business challenge, goals or area of research interest. Typically you should be available for approximately two class visits on campus and be available by email or telephone, to answer key questions pertaining to the project. Collaborative project opportunities are available in: Marketing, Social Work, Economics, Public Policy, Equity Studies, Multicultural & Indigenous Studies, Sociology, and Communications.
Community Service Learning
Students can provide direct service to your organization, through a wide range of activities including mentoring, advocacy,outreach and awareness, and assisting with events. Community partners often participate in the assessment of the students learning through service projects. The experience may require a formal partnership by way of an affiliation agreement between York University and the partner organization.
Placement & Practicum for Academic Credit
Provide students with an opportunity to develop competencies, skills and experience in an organizational work environment. The experience will require a formal partnership by way of an affiliation agreement between York University and the partner organization outlining items such as obligations of York University, obligations of the partner organization, insurance considerations and other specifics pertaining to the activity. Students are available for placement in the following programs:
Business & Society: The Social Economy Stream
Communication Studies
Emergency Management
History
International Development Studies
Portuguese Studies
Public Policy & Administration
Social Work
Work and Labour Studies
Urban Studies
Paid Internships through the Career Centre
Host students for a work term in a paid postion. The work experience will require some form of learning agreement that is shared by the employer, the faculty supervisor and the student. The student's work progress is monitored by York University and work performance is supervised and evaluated by the partner organization.
The Faculty currently has four Internship Programs available:
Technology Internship Program (TIP)
Professional Accounting Internship Program (PAIP)
Human Resource Management Internship Program (HRMIP)
Business & Public Administration Internship Program (BPAIP)
Learn more at yorku.ca/careers/internships
Company Name
416 Community Support for Women
A Circle of Support
A Plus Cleaning
Abbozzo Gallery
Abrigo Centre
Abuse Program of York Region
Academy of Canadian Cinema and Television
Access Alliance Multicultural Health and Community Services
Access County Community Support Services
Accommodation, Information and Support INC
ACORN-Canada, Toronto Chapter
Across Boundaries, An Ethnoracial Mental Health Centre
Active Mind and Body Kids Community Services
Advanced Broadband Enabled Learning (ABEL)
Afghan Women's Organization
AFIWI Groove Durham
Aisling Discoveries Child and Family Centre
Alive and Free - Hypnosis & Wellness
Allstream Inc.
Alterna Savings & Credit Union
Alzheimer Society of Toronto
Alzheimer Society of York Region
Anastasios Moussas (Integrated Consulting Services)
Anduhyaun Inc. (1st Nations Women's Shelter)
Anduhyaun Inc. (Nekenaan)
Anishnawbe Health Toronto
Anne Johnston Health Station
Applegrove Community Complex
Arch Disability Law Centre
Archives of Ontario
Art Gallery of York University (AGYU)
Ascend (Doorsteps Neighbourhood Services)
Association for Media Literacy
Astral Radio
Baby Talk 360
Bayview Community Services
Bel Ami School Headbands
Bell Media
Bell Media: Comedy, Bravo and Space
Big Brothers Big Sisters Ajax-Pickering
Big Brothers Big Sisters of Hamilton and Burlington
Big Brothers Big Sisters of North Durham
Big Brothers Big Sisters of Peel
Big Brothers Big Sisters of Toronto
Black Creek Community Health Centre
Black Creek Pioneer Village
Blue Hills Child and Family Centre
BMO/Basel
Boomi's Beads
Brampton Emergency Management Office
Brantford Fire Department
Brantford First Nations Community
Breakaway Addiction Services
Burlington Fire Department
Business Services Transformation Branch, Service Ontario
Cadillac Fairview Corporation LTD
Calgary Immigrant Women's Association
Camoes Toronto
Campana del Lazo Blanco de Argentina y Uruguay
Canada Helps CanaDon
Canada Revenue Agency
Canada's Technology Triangle (Economic Development Department for Kitchener/Waterloo)
Canadian Blood Services
Canadian Centre for Victims of Torture
Canadian Chamber of Commerce
Canadian Cottage Holidays
Canadian Council on Social Development
Canadian Druze Society
Canadian Environmental Law Association
Canadian Hearing Society
Canadian Jewish Political Affairs Committee
Canadian Mental Health Association - Durham
Canadian Mental Health Association - Haliburton, Kawartha, Pine Ridge
Canadian Mental Health Association - Peel Branch
Canadian Mental Health Association - Toronto Branch
Canadian Mental Health Association - York and South Simcoe Region
Canadian Mental Health Association - York Region
Canadian Red Cross
Canadian Red Cross, Halton
Canadian Urban Institute
Canadian Urban Transit Association
Carolyn's Model & Talent Agency
Casey House
Catholic Children's Aid Society of Toronto
Catholic Community Services of York Region
Catholic Family Services - Peel-Dufferin (Safe Centre)
Catholic Family Services - Peel-Dufferin (Safer Family)
Catholic Family Services of Durham
Catholic Family Services of Peel-Dufferin
Central Eglinton Community Centre
Central Toronto Community Health Centres
Centre for Addiction & Mental Health (Health Systems & Health Equity Research Group)
Centre for Addiction and Mental Health Archives
Centre for Dreams, Markham
Centre for the Support of Teaching
CHAT
Child Protection Authority, Grenada
Childhood Cancer Canada Foundation
Children and Family Services of York Region
Children's Aid Society of Hamilton
Children's Aid Society of Toronto
CHIN Radio
CHIRS Community Head Injury Resource Services
CHRY 105.5 FM (YU Student Centre)
CIBC
Circle of Care
Citizens Services Transformation Branch, Service Ontario
City of Brampton
City Of Brampton, Brampton Emergency Measures Office
City of Brantford Fire Department
City of Burlington
City of Burlington, Fire Department
City of Markham
City of Markham, Planning Department
City of Toronto, Office of Emergency Management
City of Toronto, Parks, Forest & Recreation
City of Toronto, Policy and System Planning
City of Vaughan Emergency Planning Program
Colbourne Lodge
Colchester East Hants Health Authority
Common Frontiers
Community and Legal Aid Services Program
Community Empowering Enterprise (CEE)
Community Legal Clinic of York Region
Community Living Mississauga
Community Living Scarborough
Community Living South York
Community Living, Toronto
Community Social Planning Council Toronto
Compass, Toronto East General Act Team
Conagra Foods - Chefboyardee & POGO
Conflict Mediation Services of Downsview
Conseil Catholique de District Centre Sud
Correctional Service of Canada - Central ON District
Cortex Design
COSTI Immigrant Services
Country Kitchen Catering
County of Wellington
Craft Ontario
CriSys Limited
CTV
CTV, Bravo
CTV, STAR!
Culturelink Settlement Services
DDB Canada, Tribal Worldwide
Delight Chocolate
Deloitte Management Services LP
Department of Security and Civil Protection of Mali, General Directorate of Civil Protection
Design Excellence Kitchen and Bath Designs
Digital Light & Magic
Distress Centres, Toronto
Dixie Bloor Neighbourhood Centre
DJ Depot Inc.
Dog Sense Day Care (& Grooming)
Dr. Bob Kemp Foundation Inc.
Dr. Kosoy & Dr. Gruber, Pediatrics
Durham Children's Aid Society
Durham Family Court Clinic
East Gwillimbury Emergency Services
East Metro Youth Services
Eco Painting
EcoHealth
Eden Community Homes
Elgin Counselling and Mediation Centre
Elite Model Management
Elizabeth Fry Society
Elspeth Heyworth Centre for Women
Engine Advertising
Environment Canada
Epilepsy Toronto
Erin Mills Women's Couselling Centre (Salvation Army)
Eva's Initiatives
Excalibur
Executek International
Experiential Research Methods at Work
Extendicare Brampton
Extendicare Mississauga
Extreme H2O Water Systems Inc
Factor
Fair Trade Clothing Company-Op
Family & Children's Services of Guelph Wellington County
Family Connections Group Inc.
Family Services Toronto
Family, Youth and Child Services of Muskoka
Fashion Pulse
FCJ Refugee Centre
Feast Interactive
Fernie Youth Services
Festival Portuguese Television
Fight Boutique
Firgrove Learning & Innovation Community Centre, Downsview
For Youth Initiative, Toronto
Foundation for International Training
G4S Secure Solutions Canada
Gate House
Geolam Inc.
George Brown College - Transitions to Post-Secondary Education
George Hull Centre for Children and Families
Girls Incorporated of Durham
Gladki Planning Associates
Globalmedic
Globe Risk International INC.
Gourmet Safari
Governance and Emergency Management Canada
Governing Council of the Salvation Army
Green Campus Co-op
Green Car Removal
Greenview Lodge Senior Care Residence
Guelph-Wellington Women in Crisis
Halton Children's Aid Society
Halton District School Board
Halton Healthcare Services
Harbourfront Centre
Harmony Movement
Harriet Tubman Community Organization
Health Systems & Health Equity Research Group, Centre for Addiction & Mental Health
HealthTech
Heart House Hospice
Help Fight Ebola
Her Majesty the Queen in right of Ontario as Represented by the Minister of Community Safety and Correctional Services (Toronto Police)
Her Majesty the Queen in right of Ontario as represented by the Minister of Government and Consumer Services
Her Majesty the Queen in right of Ontario as represented by the Minister of the Environment and Climate Change
Heritage Toronto
Hincks-Dellcrest Centre
Holt Renfrew
Homes First Society - Business Valuation
Hong Fook Mental Health Association
Horizons for Youth Shelter
Hospice Peterborough
Hospice Toronto
Hospice Vaughan
Human Resources Professionals Association of Ontario
Humanity First
Humber River Hospital
Humewood House
Ignite Passion Now
Impact Energy Services Inc.
In-Form Physiotherapy & Rehabilitation Centre
Inner City Outreach
Innisfil Arts Culture & Heritage Council
Inside Toronto
Institute for Work and Health
Integra Foundation
Interim Place
Interworld Electronics & Computing Industries Inc.
Investors Group, Brampton South
IOL Master Capital Acquisition, T.O. Western Hospital
JACS Toronto
Jamaica Canadian Association
Jane Alliance Neighbourhood Services
Jane/Finch Community and Family Centre
Jean Tweed Centre
Jessie's, June Callwood Centre for Young Women
Jewish Family and Child Services of Greater Toronto
Jewish Vocational Services
John Howard Society of Peel-Halton-Dufferin
John Howard Society of Toronto
John Howard Society of York Region
Joseph Coccaro
Kairos
Kawartha Sexual Assault Centre
Keeshan PR
Kensington Health Centre
Kerry's Place Autism Services
La Maison - Maison d'Hébergement pour Femmes Francophones
Lakefront Graphix Technology
Lamp Community Health Centre
Lemonberry
Lollipopplanet.com
London Cross Cultural Learner Centre
Luminato Festival
Lung Association's Youth Advocacy Training Institute
Lura Consulting
Mainstay Housing
Malvern Family Resource Centre
Manantial Neighbourhood Services Inc.
Margaret's Housing and Community Support Services
Markham Arts Council
Markham Museum
Member of Parliament, Carolyn Bennett's Constituency Office
Mennonite New Life Centre of Toronto
Metro Hall, City of Toronto
MetroActive Corporation
Mississauga Arts Council
MMM Group
Mon Sheong Foundation Chinese School
MP Olivia Chow's Constituency Office
MQ Solutions
MTV Networks Canada, ULC
Multicultural Historical Society of Ontario
MusicWorks Magazine
MZTV Museum of Television
Native Child and Family Services of Toronto
Native Women's Resource Centre of TO
NDP Deputy Critic for Housing
Neighbourhood Legal Services
New Vintage Media
Newcomer Centre of Peel
Newcomer Women's Services, Toronto
Nexus Youth Services
No One is Illegal
North York Arts
North York Community House
North York Food Bank
North York Harvest Food Bank
North York Seniors Centre
North York Women's Centre
North York Women's Shelter
OCASSI – Ontario Council of Agencies Serving South Asians
ODSP Action Centre
Odyssey Medical
Office of MPP, Cheri Dinovo
Office of Peggy Nash, MP
Office of Rathika Sitsabaiesan, MP for Scarborough-Rouge River
Office of the Dean, Faculty of Liberal Arts and Professional Studies
One Kenton Alzheimer's Centre of Excellence
Ontario Association of Children's Aid Societies
Ontario Crafts Council
Ontario Human Rights Commission
Ontario Jewish Archives
Ontario Ministry of Community and Social Services, Program Policy and Implementation Branch
Ontario Ministry of Community Safety and Correctional Services - Danforth Probation and Parole
Ontario Ministry of Environment
Ontario Ministry of Government and Consumer Services, Consumer Services, Analytics and Partnerships Branch
Ontario Ministry of Government Services, Service Ontario, Business Development Branch
Ontario Ministry of Government Services: Land & Resources, I&IT Cluster
Ontario Ministry of Municipal Affairs and Housing
Ontario Ministry of Public Safety and Solicitor General, Emergency Managament British Columbia
Ontario Ministry of the Attorney General, Ontario Victim Services; Victim's and Vulnerable Person's Division; Victim/Witness Assistance Program, Scarborough
Ontario Ministry of the Environment, Emergency Management Program Office
Ontario Nonprofit Network
Ontario Pension Board (OPB)
Ontario Public Interest Research Group
Ontario Public Service Employees Union
Operation Groundswell
Organized Zone
Oshawa-Durham Rape Crisis Centre
Our Place Peel
Overland LLP
Paisley Protectives division of Paisley Products of Canada Incorporated
Parachute Canada
Pathstone Mental Health
Pathways to Education, Rexdale
Patient/Client Family Council
PEACH - Promoting Education & Community Health
Peel Childrens's Centre
Peel Committee Against Woman Abuse
Peel Family Mediation Services
Peel Family Shelter (Salvation Army)
Peel Multicultural Council
Peel Region Health Services
Peel, Halton, Dufferin Acquired Brain Injury Services
Perfume Passion Inc
Pickering Museum Village
Planned Parenthood Waterloo Region
Practice and Research Together Association
Progress Place Rehabilitation Centre
Promoting Education and Community Health
Propeller Centre for Visual Arts
Providence Healthcare
Public Service Alliance of Canada
Pulsar Gymnastics
Punjab Community Heath Services
Rainbow Health Ontario
Ralph Thornton Centre
RDÉE Ontario - La Bonne affaire
Reconnect Mental Health Services
Regent Park Neighbourhood Initiative
Region of Peel, Health and Emergency Management
Regional Municipality of Halton
Regional Municipality of York
Rexdale Women's Centre
Rogers Television - A Greener York, Fit & Fabulous York Region Minute
Rogers Television, Mississauga
Rogers Television, Richmond Hill
Rogers Television, Toronto
Rogers Television, York Region
Roma Community Centre
Rosalie Hall
Royal Ontario Museum
Runnymede Healthcare Centre
Ryerson University
Samosa and Sweet Factory (SSF)
Sata Canada
Save the Children, Canada
Scarborough Arts Council
Scarborough Hospital
Scarborough Women's Centre
Schizophrenia Society of Ontario
Scholarix
Schools Without Borders
Sears Canada
Self-Help Resource Centre
Seneca College
Sexual Assault Rape Crisis Centre
Sherbourne Health Centre
Sheridan College
Simcoe County Economic Development Strategy
Simcoe Muskoka Catholic District School Board
Simcoe Muskoka Child, Youth and Family Services
Sistering - A Woman's Place
SkyWords Radio
SmartRay Inc.
Soccer Fitness Inc.
Social Planning and Research Council of Hamilton
Social Planning Council of Peel
Social Planning Toronto
Social Services Network
Sojourn House
Sony Pictures Canada
South Asian Visual Arts Centre
Spadina Museum: Historic House and Gardens
St. Clair West Services for Seniors
St. James Town Community Corner
St. Stephen's Community House
St.Michael's Hospital
Stepstones for Youth
Student and Alumni Relations (STARs) Unit, Atkinson
Student Community and Leadership Development
Student Success/Learning to 18 Strategic Policy Branch, Ontario Ministry of Education
Summit Housing and Outreach Programs
Sunnybrook Health Science Centre
Sunspirit Co-Housing Group
Susanne Lang Fragrance Inc
Swerhun Facilitation
SWIS – Settlement Workers in Schools
Sylvania Lodge
Taibu Community Health Centre
Tatla Diversity Group
TD Community Engagement Centre, York University
Tea Pot Import & Export Inc.
Tennis Canada
Terrace Youth Residential Services Inc
Textile Museum of Canada
The Artists' Network
The Cambridge Fire Department
The Children's Aid Society of the Niagara Region (Family and Children's Services Niagara)
The CITY Institute at York University
The Dufferin Peel Catholic District School Board
The Glenn Gould School of Music of The Royal Conservatory of Music
The Lighthouse for Grieving Children
The Magazine
The Market Gallery
The Massey Centre for Women
The Michener Institute
The Mint Agency
The Mood Disorders Association of Ontario
The Public Studio Inc.
The Regional Municipality of Halton
The Regional Municipality of Peel
The Regional Municipality of Waterloo
The Royal Conservatory of Music, The Young Artists Performance Academy
The Teresa Group
The Toronto Fire Council
The Ujima House/Black Daddies Organization, Lawrence Heights/Scarborough
The Underground Restaurant
The Vitanova Foundation
The York Centre for Children, Youth & Families
Thorncliffe Neighbourhood Office
Toronto Arts Council
Toronto Bisexuality Education Project
Toronto BMX
Toronto Christian Resource Centre, Regent Park
Toronto Community Housing
Toronto East General Hospital
Toronto Fire Services
Toronto Housing Corporation
Toronto International Film Festival
Toronto Public Health
Toronto Public Library
Toronto Public Library Workers Union TPLWU Local 4948
Toronto Rape Crisis Centre, Multicultural Women Against Rape
Toronto Transit Commission
Toronto Western Hospital - Visual Fields, Project I UHN
Tower Renewal Office
Town of East Gwillimbury
Town of Newmarket, Central York Fire Services
Township of King, Downtown Revitalization Project
Travel Hangar
Trillium Gift of Life Network
Triton Sales and Marketing Inc.
Tropicana Community Services
Truth & Reconciliation Commission
TSAR Publications
UNICEF Canada
Unison Health and Community Services
United Nations High Commissioner for Refugees, Canada
United Steelworkers
Universal Music
University Health Network
University of Calgary
University Settlement
Vanier Centre For Women
Vaughan Community Health Centre
Vaughan's Emergency Planning and Fire and Rescue Operations Centre
VICE Media
Victim Services of Peel
Victim Services of York Region
Vita Community Living Services, Mens SANA Families for Mental Health
Vita Integrative Health
Vitess Bicycle Corporation
Viva Tastings
Wadoka Academy
Warden Woods Community Centre
Waterford Long Term Care Home
Waterloo Region District School Board
Weddings and Honeymoons Magazines
Wellfort Community Health Services, Four Corners Health Centre
Weston King Neighbourhood Centre
Wilderness Adventures.ca
Wilfrid Laurier University, Faculty of Social Work
Wilkinson Road Shelter (Salvation Army)
Wireless Communications Plus (WCP)
WMFI-MTA
Woman Abuse Council of Toronto
Women's Centre For Social Justice
Women's Habitat of Etobicoke
Women's Health in Women's Hands
Women's Multicultural Resource and Counselling Centre of Durham
Woodgreen Community Services
Workers Action Centre
Working Women Community Centre
Wychwood Open Door Drop-In Centre
Wyndham House
Yee Hong Centre For Geriatric Care
Yellowbrick House
YMCA of Greater Toronto
YMCA of GTA - Peel Employment and Community
York Circle
York Region District School Board
York Support Services Network
York University Student Centre
York University: Centre for Aboriginal Student Services
York University: Department of Communication Studies
York University: Department of Social Sciences
York University: Office of the Comptroller
Yorkton Shelter for Women
Yorktown Child and Family Services
Youth Justice Services Division
Youthdale Treatment Centre
Zero20
Kindly note that the Experiential Education Office will provide courtesy parking vouchures for Community Partners who come to campus.