With approximately 500 members, the Dean's Circle of Student Scholars was launched in 2010 to celebrate and recognize students with a demonstrated exceptional commitment and dedication to their studies. High school students accepted to the Faculty of Liberal Arts & Professional Studies (LA&PS) with an average of 90 per cent or higher are members; current LA&PS students continue as members as long as they maintain a minimum overall GPA of 8.0 and are currently enrolled in 12 credits or more.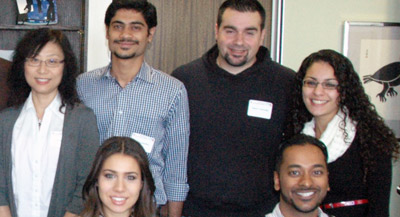 The Circle offers the Faculty's highest-achieving students an array of opportunities to become more engaged in the York community. A number of events are organized each year, ranging from luncheons to guest lectures and networking opportunities. The Dean also holds monthly coffee hours with Circle members for discussion and networking.
Past events include a talk by LA&PS graduate and Yale University alumnus Jamil Jivani, who spoke about the importance of living outside of your comfort zone and about the skills necessary to be successful after graduation. Other events featured Kwame Dougan, a Ghanaian refugee who graduated from York and went on to start an investment fund to support African startups, and Creative Writing Professor Priscila Uppal, who discussed her artistic process and the challenges of a creative writer. Circle members Aaqib Mahmood and Saqib Mahmood — twin brothers both studying Communication Studies — shared their video about their experience in the 2014 Beihang-York University Summer School Exchange Program. Camila Escalante, a Political Science major, spoke about her experience in London, England.
Through the various events held for members of the Dean's Circle, this program is able to inspire students to continue achieving academic success while helping them to become engaged leaders.