Jesse Thistle's "From the Ashes: My Story of Being Métis, Homeless, and Finding My Way"
With panelists Shane Belcourt, ShoShona Kish and Jesse Wente
Date: Tuesday, November 19, 2019 | Reception at 6:00pm | Lecture at 7:00pm
Location:
Reception – CIBC lobby, Sandra Faire and Ivan Fecan Theatre
Lecture – Sandra Faire and Ivan Fecan Theatre
Accolade East Building, York University, Keele Campus
Co-hosted by The Department of Equity Studies, the Aboriginal Students Association at York (ASAY), the Centre for Aboriginal Student Services (CASS), the Indigenous Council, the Indigenous Studies Program, the History of Indigenous Peoples Network, the Robarts Centre for Canadian Studies, the Department of History, Office of the Provost & Vice-President Academic, Office of the President.
Light refreshments will be served at the reception.
Register now using our online RSVP
ALL ARE WELCOME – OPEN TO THE PUBLIC
The Kitty Lundy Memorial Lecture seeks out an individual whose scholarship and creativity address principles to which Kitty Lundy exhibited commitment: engaged learning, equity and social justice, interdisciplinary exchange, and the dissemination and exchange of ideas and knowledge with communities residing within and outside of York University.
2019 Lecturer: Jesse Thistle
This year's Kitty Lundy Memorial Lecture will be given by best-selling writer and scholar Jesse Thistle.
Thistle, who identifies as Métis-Cree-Scot, is Ph.D. candidate in History and assistant professor in the Department of Equity Studies at York University. His work focuses on theories of intergenerational and historic trauma of the Métis people.
Thistle's talk will explore the themes of his debut memoir, From the Ashes. Chronicling his experiences with trauma, addiction, and homelessness, From the Ashes is an eloquent exploration of what it means to live in a world surrounded by prejudice and racism. In this honest memoir, Thistle writes about his painful experiences with abuse, uncovering the truth about his parents, and how he found his way back into the circle of his Indigenous culture and family through education. We will then hear from three panelists who engage with Thistle's memoir and who also share their own politically engaged creative practices.
2019 Panelists:
Shane Belcourt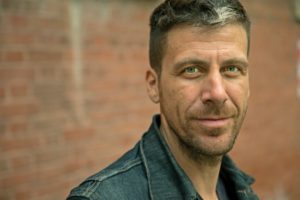 Shane Belcourt is Tony Belcourt's son. Or Christi Belcourt's brother. Or Claire's dad. He is also an award-winning Métis filmmaker, writer, and musician based in Toronto. Notable work includes the feature film Tkaronto; shorts such as A Common Experience, Keeping Quiet, and Pookums; and documentaries such as Kaha:wi – The Cycle of Life and the tv series Urban Native Girl; and two Historica Canada Minutes Chanie Wenjack and Naskumituwin (Treaty). Recent works include the CBC Firsthand documentary Indictment (co-Directed with Lisa Jackson) and the feature film Red Rover.
ShoShona Kish
ShoShona Kish is an Anishinabekwe community organizer, producer, activist, songwriter and JUNO award-winning touring artist. In 2018, Kish was recognized for her work internationally with the prestigious "Professional Excellence Award " from the WOMEX organization "for her role in the ongoing revolution of upheaving indigenous communities and their culture – using the medium of music as an agent of change, to awaken our humanity and help us connect".
Jesse Wente
Jesse Wente has appeared on CBC Radio's Metro Morning as film and pop culture critic for 20 years. He previously served as Director of Film Programmes at TIFF Bell Lightbox, where he oversaw theatrical, Cinematheque and Film Circuit programming. A self-described 'Ojibwe dude' with a national and international lens, he encourages audiences to consider diversity and inclusion into the future view of their organization, industry and country.
Copies of Jesse Thistle's From the Ashes will be made available for sale at the lecture, and guests will have the opportunity to have it signed by Thistle.
Accessibility
The Sandra Faire and Ivan Fecan Theatre is an accessible space. For more information, please contact Jacquie Lazar at jacquiel@yorku.ca or (416) 736-2100 x 55776
The Kitty Lundy Memorial Lecture
The annual Kitty Lundy Memorial Lecture honours the late Kitty Lundy, an admired educator of sociology who was associated with York's former Atkinson Faculty of Liberal Arts & Professional Studies from 1986 to 1989. Wide-ranging in her accomplishments and interests, Ms. Lundy felt particular concern for the fields of education, occupations and women's studies, and demonstrated a keen commitment to students pursuing their studies on a part-time basis. To honour her memory, the Lundy family established the Kitty Lundy Memorial Fund, which supports the annual lecture.