Creating spaces to discuss topics that matter
Community Conversations was an initiative in the Faculty of Liberal Arts & Professional Studies meant to add to dialogue and discussions on topics that matter to members of our University and surrounding communities. Conversations were held in a variety of locations across the GTA: cafés, libraries, community centres and anywhere that constructive dialogue would flourish, with the intention of creating welcoming spaces where people from diverse communities could gather and share their unique insights and experiences.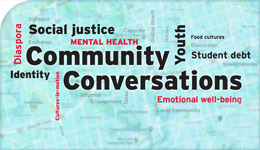 Read more about our series of events in our Community Conversations e-Book.
Selected Conversations
Date
Topic
Hosts
Venue
March 27, 2019
Black Continental Africans in Canada: Exploring Culture, Identity, and the Immigrant Experience
Scadding Court Community Centre
707 Dundas Street West, Toronto
March 16, 2019
Real Jobs, Living Wages
Oakridge Community Centre
60 Pharmacy Ave, Scarborough
March 6, 2019
What is a Guest? What is a Settler?
Curtis Lecture Hall B, York University
October 28, 2018
Black Continental Africans in Canada: Black and Black African Diaspora Relation
Ghana Presbyterian Church, 51 High Meadow Place, North York
October 6, 2018
Remembering Dr. B.R. Ambedkar's Ideology, Philosophy & Teaching
Nivedita Das Kundu
519 Kaneff Tower, York University
April 14, 2018
Talking Climate Change: Challenges & Opportunities for Action
Tyrone Hall
Toronto Public Library, Wychwood Branch
(1431 Bathurst Street Toronto, ON)
March 2, 2018
Mapping out Muslims in Canada: Critical Debates in Academia and Beyond
Nergis Canefe & Azeezah Kanji
Auditorium – Noor Cultural Centre
(123 Wynford Drive, Toronto, ON)
February 24, 2018
"Black Panther", Celebrating Blackness in the African Diaspora
Sylvia Bawa
Fort York Library - Toronto Public Library (190 Fort York Blvd, Toronto, ON)
November 23, 2017
Girls, Identity, Tweens and Teens Series
Part 3: Tweens, Teens and Social Justice
Natalie Coulter & Kisha McPherson
York Woods Public Library
(1785 Finch Ave West, Toronto, ON)
November 2, 2017
Girls, Identity, Tweens and Teens Series
Part 2: Black Girls and Identity
Rowena Linton & Karlene Davis
York Woods Public Library
(1785 Finch Ave West, Toronto, ON)
October 26, 2017
Girls, Identity, Tweens and Teens Series
Part 1: What Does it Mean to be a Tween Girl
Natalie Coulter
Regent Park Aquatic Centre
(640 Dundas St E, Toronto, ON)
July 7, 2017
Cuba en el Siglo XXI: Cultura e Identidad en movimiento/Cuba, XXI Century: Culture and Identity in Motion
Julio Fonseca & Roberta Iannacito-Provenzano
Toronto Public Library - Lillian H. Smith Library (239 College St, Toronto, ON)
June 22, 2017
The Summer of '77: How Emanuel Jaque's Murder Changed Toronto
Gilberto Fernandes
Gallery of the Portuguese Pioneers (960 St. Clair Ave West)
June 15, 2017
Tutti a tavola! Italian Food Culture in Canada
Roberta Iannacito-Provenzano
Vaughan City Hall–Atrium (2141 Major Mackenzie Dr. W, Maple, ON)
June 6, 2017
Resourcing Student Debt Solutions for Strengthening Community Financial Capacity
Brenda Spotton Visano
YorkU-TD Community Engagement Center
May 11, 2017
A Conversation based on the Film: MPA - A Utopian Experiment
Megan Davies
Davenport-Perth Neighborhood Community Health Center (1900 Davenport Rd)
May 10, 2017
My Mind & Me: An introductory Mindfulness Workshop for Youth
Marie-Jolie Rwigema
The Spot (1 York Gate Blvd., 2nd Floor)
May 6, 2017
do we have freewill?
Alexandru Manafu
Studio 303, 401 Richmond Street West
April 20, 2017
Stories of Change: Narrative Practices for Critical Justice Work
Harjeet Badwall
York TD-Community Engagement Center
March 19, 2017
The Greek Immigrant Experience; Then and Now
Sakis Gekas
Pan Arcadian Federation of Canada House
450 Danforth Avenue
February 28, 2017
In Search of Community Emotional Well-being
Wilburn Hayden & Farid Partovi Chaharlangi
2999 Jane Street Community Building
January 31, 2017
A Nation Divided: The November 1916 Battle of Athens and Greece's Entry to Great War
Sakis Gekas
Danforth/Coxwell - Toronto Public Library
November 25, 2016
Youth, Higher Education and Community Engagement in the Portuguese Community
Maria Dodman & Inês Cardoso
Gallery of the Portuguese Pioneers
Please provide your comments on the Community Conversation you have attended.