The Faculty of Liberal Arts and Professional Studies (LA&PS) is home to a unique international bachelor's degree which prepares you for success in the global workforce and provides international perspectives and experiences.
The international Bachelor of Arts (iBA) degree has been structured to make enrolment and completion clear and easy to understand.  The Honours iBA degree  is similar to the Honours BA degree, which also has 120 credits required for completion. Within these 120 credits, iBA students are required to complete internationally-oriented courses (12 credits), language courses (18 credits) and an international exchange with one of York University's 120+ global partners.
These additions to your BA will help distinguish you and your degree!
For Admission Requirements to one of our iBA Programs, please check here.

For Scholarships & Financial Aid information, please check here.
Contact Information
Office of the Dean, Faculty of Liberal Arts & Professional Studies
Saba Rafiq
srafiq@yorku.ca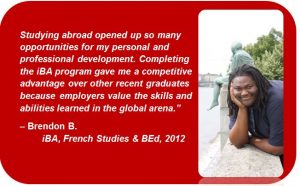 | | | | |
| --- | --- | --- | --- |
| iBA Major | iBA Coordinator | Email | Department/Unit |
| Anthropology | Albert Schrauwers | chranth@yorku.ca | Department of Anthropology, room 2054 Vari Hall. lapsanth@yorku.ca |
| Communication Studies | Mary-Louise Craven | mlc@yorku.ca | Department of Communication Studies, room 3004 Victor Philip Dahdaleh Building. lapscomn@yorku.ca |
| European Studies | Avron Kulak | akulak@yorku.ca | Department of Humanities, room 262 Vanier College. lapshuma@yorku.ca |
| French Studies | Dominique Scheffel-Dunand | frenchr@yorku.ca | Department of French Studies, room N727 Ross Building. lapsfren@yorku.ca |
| Geography | Joseph Mensah | jmensah@yorku.ca | Department of Geography, room N418 Ross Building. lapsgeog@yorku.ca |
| German Studies | Gabriele Mueller | gmueller@yorku.ca | Department of Languages, Literatures & Linguistics, room S561 Ross Building. lapsdlll@yorku.ca |
| History | Jonathan Edmondson | chairhis@yorku.ca | Department of History, room 2140 Vari Hall. lapshist@yorku.ca |
| Humanities | Avron Kulak | akulak@yorku.ca | Department of Humanities, room 262 Vanier College. lapshuma@yorku.ca |
| Italian Studies | Roberta Iannacito-Provenzano | lllchair@yorku.ca | Department of Languages, Literatures & Linguistics, room S561 Ross Building. lapsdlll@yorku.ca |
| Politics | David Mutimer | polschr@yorku.ca | Department of Politics, room S672 Ross Building.  lapspols@yorku.ca |
| Sexuality Studies | Allyson Mitchell | mail@allysonmitchell.com | School of Gender, Sexuality and Women's Studies, room 206 Founders College. lapsgsws@yorku.ca |
| Urban Studies | Lisa Drummond | drummond@yorku.ca | Department of Social Science, room S737 Ross Building. lapssosc@yorku.ca |