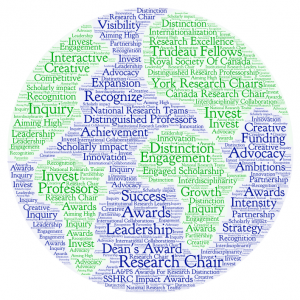 More than 650 professors across 21 Departments & Schools in LA&PS are recognized by their peers in Canada and around the world for their transformative research and progressive scholarship. They are leading experts in their fields, advancing knowledge and engaging our students, as well as the wider community on issues of social, political, economic and cultural significance.
Awards and Recognitions
Our faculty members' exemplary research is recognized through a variety of prestigious awards and recognitions:
LA&PS Awards for Distinction in Research
The LA&PS Awards for Distinction in Research, Creativity or Scholarship were launched in 2014 to recognize the exemplary work of our faculty members, the impact of their work on academic and social communities, and their commitment to engaging students.
2018 Award Winners
Congratulations to the winners of the 2017 LA&PS Awards for Distinction in Research:
Jennifer Korosi, Department of Geography
Emerging Researcher Category
Professor Korosi is an internationally recognized scholar in the fields of limnology, paleo-limnology, and bio-geochemistry. She is also an expert in ecosystem change, including pollutant tracking and aquatic environments.
Miriam Smith, Department of Social Science
Established Researcher Category
Professor Smith is know for her expertise in comparative politics and political science. She has also had a significant influence on the theoretical approach associated with historical institutionalism, LGBTQ+ political mobilization in
Canada and the US, and the study of civil society and social movements.
Read the full story on the 2018 LA&PS awards
Past Award Winners
2017 Award Winners
Congratulations to the winners of the 2017 LA&PS Awards for Distinction in Research:
Sylwia Chrostowska, Department of Humanities
Emerging Researcher Category
Professor Chrostowska is widely recognized by her peers for successfully straddling the divide between academic writing and literature.
Alice MacLachlan, Department of Philosophy
Emerging Researcher Category
Professor MacLachlan was is described by her peers as a brilliant research leader. She is also well known as a thought leader in ethics, feminist philosophy and the role of apology in establishing trust.
Joan Judge, Department of History
Established Researcher Category
One of the most respected scholars of modern Chinese history and culture, Professor Judge has influenced an entire generation of historians.
Hassan Qudrat-Ullah, School of Administrative Studies
Established Researcher Category
A highly prolific researcher in the field of decision sciences and system dynamics approach, Professor Hassan Qudrat-Ullah is skilled at mobilizing resources to establish his own innovative research niche.
Luin Goldring, Department of Sociology
Social Justice Research Category
Professor Goldring is the winner of the biennial LA&PS Award in Social Justice Research. Known for her ground-breaking work on the experiences of migrant workers in Canada, she exemplifies the spirit of social justice.
Read the full story on the 2017 LA&PS awards
2016 Award Winners
Congratulations to the winners of the 2016 LA&PS Awards for Distinction in Research:
Jonathan Edmondson, Department of History Chair, received the LA&PS Award for Distinction in Research, Creativity or Scholarship in the Established Researcher category. He is world-renowned as an expert on the Roman Empire, Roman inscriptions and Roman social history. His body of work, as well as his strong commitment to sharing his research, has shed light on the Roman world for scholars, students and the public.
"I'm excited about my research on the Roman Empire, especially Roman Spain, because it's given me access to a range of new monuments with inscriptions, previously unpublished, that have the potential to throw new light on the impact of Rome on Indigenous societies," said Edmondson. "Although people have been studying the Roman Empire for centuries, we can always pose new questions about, and gain fresh insights into, the Roman world."
Boyd Cothran, a history professor, was honoured in the Emerging Researcher category. He will be presented with his award in the Winter 2017 semester. Since earning his PhD four years ago, he has achieved an outstanding record of scholarly research in the growing field of Indigenous history. His work, shared in both academic and public venues, is reframing the U.S. narrative and places Indigenous history at its centre.
"What excites me the most about the growing field of Indigenous history is how we are rewriting the history of North America by reclaiming the central role Indigenous peoples have played in the development of our shared society," said Cothran. "For too long, historians wrote histories of North America that ignored Indigenous people, denying them a history and by extension a future. Indigenous history is an exciting field because every day it seems like there are new stories being discovered and new perspectives on old subjects being shared."
Read full story on the 2016 awards.
2015 Award Winners
Congratulations to the winners of the 2015 LA&PS Awards for Distinction in Research: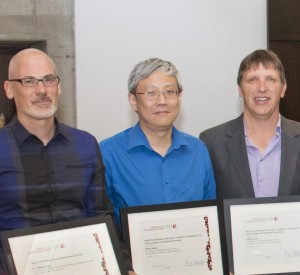 Sean Kheraj, Department of History
Emerging Researcher Category
Dr. Sean Kheraj is being recognized in the Emerging Researcher category for his inspiring scholarship and his academic and public reach. Since defending his dissertation in 2008, he has been exceptionally productive, innovative and dynamic as a Canadian environmental historian. Read More
Jimmy Huang, School of Information Technology
Established Researcher Category
Dr. Jimmy Huang, Director of the School of Information Technology, is known for his expertise and creativity in the quickly changing fields of information retrieval and big data analytics with complex structures. Since 2003 Professor Huang has had a remarkable publication record of over 170 papers in the most respected journals and top-tier conferences in information technology. Read More
Lesley Jacobs, Department of Political Science, Department of Social Science
Established Researcher Category
Dr. Lesley Jacobs is recognized nationally and internationally for his interdisciplinary research in the fields of law, socio-legal studies, social science and political science. His areas of expertise include international trade, human rights, race relations, and law and political theory. Read More
Eric Mykhalovskiy, Department of Sociology
Distinction in Social Justice Research
This is the first year that we are presenting the Award for Social Justice Research in LA&PS. This new award acknowledges an academic career that exceeds expectations, while making substantial contributions that advance social justice in any form. Dr. Eric Mykhalovskiy is the winner of the inaugural Social Justice Research Award for his research in the sociology of health and healthcare. Read More
2014 Award Winners
Congratulations to the winners of the 2014 LA&PS Awards for Distinction in Research:
Our first winner in the Established Researcher category is Linda Peake, professor in the department of social science and director of York University's City Institute.  Sociology Professor Lesley Wood won in the Emerging Research category.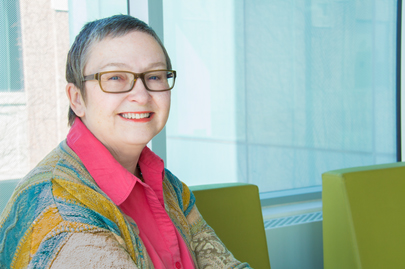 Peake describes herself as a critical human geographer, exploring the feminist geographies of gender, race and sexuality, particularly as they relate to the global south.  Over the past 30 years she and
her graduate students have worked extensively with grassroots organizations in Guyana, conducting research aimed at improving the lives of local women.
Wood's research marries theory with social activism, examining the complex dynamics of social movements through a variety of lenses.  Wood's research has included surveying G20 protesters in the thick of a demonstration, interviewing activists about their organizational and strategic choices, studying the impact of policing on protest and examining the characteristics of the U.S. anti-war movement.
Read more about Linda Peake and Lesley Wood on pages 12-13 of our LA&PS 2013/14 Year in Review.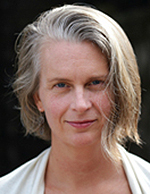 Kristin Andrews, Department of Philosophy, is a Tier 2 York Research Chair in Animal Minds. Her interests are in animal and child social cognition and moral development. She has worked with dolphins in Hawaii and orangutans in Borneo. Her research area is in the philosophy of psychology. Her first book, Do Apes Read Minds?, was published by MIT Press in 2012. She is in the Faculty of Liberal Arts & Professional Studies, Department of Philosophy.

Isabella Bakker, Department of Political Science, received a Tier 1 York Research Chair in Global Economic Governance, Gender and Human Rights. Bakker's research places a critical lens on global economic policy and governance practices. She is also examining reproductive healthcare, education, and welfare policies, in the aftermath of the 2008 global financial crisis with the central aim of supporting the development of progressive, human-centred economic theories and policies.
Jacob Beck, Department of Philosophy, is a Tier 2 VISTA York Research Chair in Philosophy of Visual Perception. Beck's research interests include the study of mental representation and consciousness from an empirically informed philosophical perspective. Most of his current research centres on three issues: the format of mental representation, the perception–cognition boundary, and how consciousness and representation interrelate.

Jimmy Huang, School of Information Technology, is a Tier 2 York Research Chair in Big Data Analytics. His research focuses on the areas of information retrieval, big data and their applications to the web and medical healthcare. The objective of his research program is to overcome limitations of existing information retrieval methods and to formally develop a new retrieval paradigm called context-sensitive and task-aware information search for big data.
Lesley Jacobs, Institute for Social Research, was awarded a Tier 1 York Research Chair in Human Rights and Access to Justice to  focus his research on establishing an innovative Access to Justice Research Lab, which will serve as an incubator for the most significant primary empirical research on access to justice in Canada.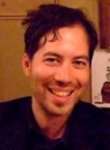 Fuyuki Kurasawa, Department of Sociology, is a Tier 2 York Research Chair in Global Digital Citizenship. His research will examine how the rise of digital culture is enabling laypeople and experts to collaborate in tackling some of the world's most pressing problems. Kurasawa will also examine how new technologies are reshaping practices of creation, evaluation, and dissemination of knowledge about such global problems.
Distinguished Research Professors
Distinguished Research Professors Emeritus
| | | |
| --- | --- | --- |
| Year | Faculty | Department |
| 2005 | Stuart Shanker | Psychology |
| 2001 | H. Vivian Nelles | History |
| 2001 | Reginald Whitaker | Political Science |
| 2000 | James Carley | English |
| 1999 | Michael Herren | Humanities |
| 1999 | Leo Panitch | Political Science |
| 1998 | Lorraine Code | Philosophy |
| 1994 | Jack Granatstein | History |
| 1993 | Ian Jarvie | Philosophy |
| 1992 | Michael Kater | History |
| 1992 | Gareth Morgan | Administrative Studies |
| 1989 | John Bosher | History |
| 1984 | Jerome Ch'en | History |
| 1983 | John O'Neill | Sociology |
Rosemary Coombe
Law, Communications and Culture, Tier 1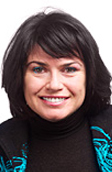 Research
Coombe's work focuses on the global intersection of intellectual property, cultural heritage and human rights with an emphasis
on indigenous peoples and sustainable development.
Joshua Fogel
History of Modern China, Tier 1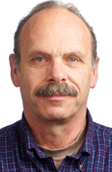 Research
Fogel's comparative East Asian historical research examines the cultural and political interactions and parallels between China and Japan in the modern era.
Leah Vosko
Political Economy of Gender and Work, Tier 1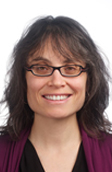 Research
Vosko conducts research on labour market insecurity in Canada and internationally with attention to social relations of gender and citizenship. Her current work focuses on employment standards enforcement and access to labour rights and protections among temporary migrant workers. She is director of the Gender and Work Database, the Comparative Perspectives on Precarious Employment Database and the Employment Standards Database.
Christopher Kyriakides
Citizenship, Social Justice, and Ethno-Racialization, Tier 2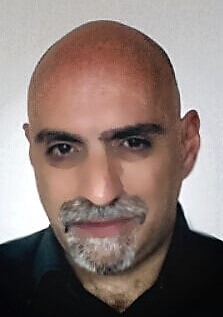 Research
Kyriakides' "Racialized Reception Contexts" research program focuses on configurations of racialization in relation to the meaning of East/West, South/North and the articulations of racism and nationalism in the reception of refugees in Europe, North America and the Middle East. The initial five-country analysis of Canada, the United States, Italy, Greece and Jordan will examine the extent to which policy instruments and media discourse related to the global refugee crisis negatively impacts racialized communities in each reception context.
Ethel Tungohan
Canadian Migration Policy, Impacts and Activism, Tier 2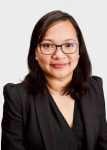 Research
Tungohan analyzes discourses that have underpinned the Canadian government's policies towards temporary foreign workers from 1973 until 2017 and the nature of these policies and their effects on different groups of temporary foreign workers. She also examines the range of migrant workers' social movement activities that have emerged as a response, in particular, to anti-migrant discourses and policies.
Regina Rini
Philosophy of Moral and Social Cognition, Tier 2
Research
Rini's research focuses on how people in democratic societies justify their social beliefs to one another. Her work analyzes research from the social sciences, especially cognitive science and sociology, to draw conclusions about how public debate currently works. She also investigates philosophical questions about what it means to improve public debate in a diverse society, exploring connections between public discourse and personal moral agency.
Fellows of the Royal Society of Canada
Fellows of the Royal Society of Canada, Emeriti

Political scientist, York Research Chair and Distinguished Research Professor Isabella Bakker received York University's first Trudeau Fellowship in 2009 for her work in feminist and critical political economy. Her research addresses the effects macroeconomic policies have on equitable, socially just and sustainable development, as well as on human rights. Her work connects fundamental economic policies and forces to the economics of daily life to show how people and communities reproduce and sustain themselves in an increasingly privatized capitalist global economy.
Haideh Moghissi, Professor Emeritus of Sociology and Equity Studies, received the Trudeau Fellowship in 2011 for her work as a leading international scholar of gender, women and Islam. Born and raised in Iran, she was a founder of the Iranian National Union of Women. Her body of research has been consistently informed by her commitment to meaningful, sustainable change and to social justice and gender democracy in the Middle East. She has led several international collaborative research projects on the interacting elements that define the increasing tensions between self-identified Muslim migrants and their new countries.
School of Social Work Professor Susan McGrath was recognized for excellence in research with the Social Science & Humanities Research Council of Canada's Impact Award in 2015. McGrath's innovative work in leading the Refugee Research Network has resulted in a successful research partnership that works to improve the well-being of refugee and forced migrants. McGrath received the Partnership Award, which is given to a partnership that, through mutual cooperation and shared intellectual leadership and resources, has demonstrated impact and influence both within and beyond the social sciences and humanities. Full Story.
Carla Lipsig-Mummé, Professor of Work and Labour Studies was recognized for excellence in research by the Social Sciences and Humanities Research Council of Canada (SSHRC) in 2018. Lipsig-Mummé is the recipient of the SSHRC's prestigious Impact Award (Partnership Category). She is principal investigator of the "Adapting Canadian Work and Workplaces to Respond to Climate Change" project, which brings together 56 individual researchers and 25 partner organizations and unions in seven countries. Its groundbreaking work has been recognized by the Secretariat of the United Nations Framework Convention on Climate Change (UNFCCC). Full Story.
History Professor Adrian Shubert was awarded a 2015 Killam Research Fellowship by the Canada Council for the Arts for his research on Baldomero Espartero, a Spaniard who went from poverty and obscurity to being offered the Spanish throne. Shubert was the first York Professor in almost a decade to win a Killam Research Fellowship. Full Story.
English Professor Deanne Williams was awarded a 2018 Killam Research Fellowship by the Canada Council for the Arts, to undertake the first ever study devoted to the history of the girl actor from the Middle Ages to the English Revolution. Full Story.