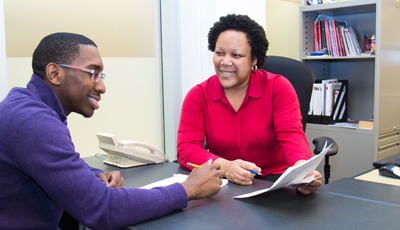 How can Academic Advising Help?
Academic Advising Services in the Faculty of Liberal Arts and Professional Studies (LA&PS) provides students with the information and guidance they need to succeed in their academic careers. Advisors can help students make the right academic decisions by explaining policies and regulations as well as presenting different options available to them in their studies.
By speaking with an academic advisor, students can get answers to questions related to program selection, academic standing, petitions, grades and degree requirements. For questions related to a specific major, students should contact their major program office.

Before you book an academic advising appointment, see these Frequently Asked Questions for the information you need.
IMPORTANT ACADEMIC ADVISING UPDATE:
As you know, the fight to contain COVID-19 has led to a shift in the way we provide services. During this time, we will continue to provide the supports and services you need from LA&PS Academic Advising through distance-appointments.
For inquiries and questions, contact LA&PS Academic Advising (Central Square 103) at laps@yorku.ca.
During COVID-19 operations, many departments have moved to a single email for booking. For further assistance:
For all other programs, please connect with LA&PS Academic Advising (Central Square 103) at  laps@yorku.ca.
We understand that these are uncertain and challenging times. LA&PS Academic Advising will continue to provide you with the guidance and information you need to succeed.