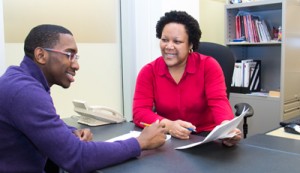 Starting July 6, 2020, the Advising Office is moving to booked phone and Zoom appointments, and will continue virtual drop-in appointments with our QLESS system on Fridays. Our services will be provided 10:00 AM - 4:00 PM Monday–Thursday and 10:00 AM - 3:00 PM on Fridays. To book an appointment with an advisor, kindly send an email to laps@yorku.ca and indicate whether you prefer communicating with us via phone or Zoom. If there is a specific advisor you would like to speak to, please include their name.
During COVID-19 operations, many departments have moved to a single email for booking. If you are a student in any of the following departments below and you require assistance, please email them directly.
For all other programs not listed, please connect with our team by emailing laps@yorku.ca.
Drop-in Advising (Fridays only):
Students seeking assistance through QLESS drop-in advising can find instructions below. Please note that this service is only available on Fridays, 10:00 AM - 3:00 PM. All other advising appointments are held Monday–Thursday, and must be booked in advance.
Using QLESS:
Download the QLESS app on your smartphone from the Google Play Store or iTunes.
Open the app, and select "Faculty of Liberal Arts & Professional Studies".
Join the line. It's that simple!
An advisor will summon you from the line and connect with you via email, phone, or Zoom.
***Note: Friday drop-in advising is provided on a first come, first serve basis. Once the queue reaches capacity, it will remain closed.
New Students:
If you are a new student to LA&PS and need assistance, email lapsadv@yorku.ca. If you are a new student with transfer credits in the Department of Economics (FBEC, BUEC, or ECON), please contact lapsecon@yorku.ca.
Important Dates:
Dates are changing and evolving as new information becomes available. For a detailed breakdown of Summer 2020 and Fall/Winter 2020-21 sessional dates, please refer to the Registrar Office and York University's COVID-19 website.
---
Your Academic Advisors are here – virtually – to address your needs during this difficult time. Stay safe and healthy!
– The LA&PS Central Advising Team