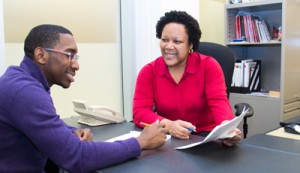 Beginning on October 5, 2020, the LA&PS Advising Office will provide its services through booked appointments or using the QLESS app if you are a student in the Department of Economics. During COVID-19 operations, many of our academic areas have created department-specific email inboxes to provide more efficient student advising services. If you are a student in any of the departments below, please email them directly.
If your program is not listed above, no need to worry! You can still connect with our team by submitting an LA&PS Academic Advising Form. We'll get back to you as soon as we can.
Hours of operation:
Monday - Thursday: 9:30 AM - 4:00 PM EST
Fridays: 10:00 AM - 4:00 PM EST
USING QLESS (FOR STUDENTS IN THE DEPARTMENT OF ECONOMICS)
Download QLESS on your smartphone from the Google Play Store or iTunes, and open the app.
For Economics students, select "Faculty of Liberal Arts & Professional Studies-Economics ONLY-Virtual Call Back Advising". (Note: we can only assist Economic students in this queue.)
Join the line. It's that simple!
An advisor will summon you from the line and connect with you via email, phone, or Zoom.
Drop-in advising is provided on a first-come, first-serve basis. Once the virtual queue reaches capacity, it will remain closed until the next day of operation. QLESS drop-in advising services are not offered on weekends. If you are unable to join before we close, don't hesitate to send us an email!
New Students:
If you are a new student to LA&PS and need assistance, email lapsadv@yorku.ca. If you are a new student with transfer credits in the Department of Economics (FBEC, BUEC, or ECON), please contact lapsecon@yorku.ca.
Important Dates:
Dates are changing and evolving as new information becomes available. For a detailed breakdown of Fall/Winter 2020-21 sessional dates, please refer to the Registrar Office and York University's COVID-19 website.
---
Your Academic Advisors are here – virtually – to address your needs during this difficult time. Stay safe and healthy!
– The LA&PS Advising Team