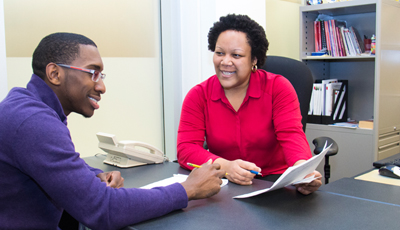 How can Academic Advising Help?
Academic Advising Services in the Faculty of Liberal Arts and Professional Studies (LA&PS) provides students with the information and guidance they need to succeed in their academic careers. Advisors can help students make the right academic decisions by explaining policies and regulations as well as presenting different options available to them in their studies.
By speaking with an academic advisor, students can get answers to questions related to program selection, academic standing, petitions, grades and degree requirements. For questions related to a specific major, students should contact their major program office.

Before you book an academic advising appointment, see these Frequently Asked Questions for the information you need.
How can I speak with an Academic Advisor?
Refer to the tabs below and click on your program. Students may be able to speak with an advisor on the spot (walk-in/drop-in), or they may need to book a future appointment.
Advising for Undecided majors and majors not listed is offered in 103 Central Square.
Commerce and Disaster & Emergency Management (formerly Administrative Studies BAS)
Location: 282 Atkinson College
Phone: 416-736-5210
Email: apsas@yorku.ca
DROP-INS:
Monday: 9:30am - 6:30pm
Tuesday: 9:30am - 6:30pm
Wednesday: 9:30am - 6:30pm
Thursday: 9:30am - 3:30pm
Friday: 10:00am - 3:30pm*
*Until 2:30pm (June to August).
Please note: There are no evening appointments when classes are not in progress. Walk-in appointments are accommodated on a first-come, first-served basis. Please feel free to call us at 416-736-5210 to get an update on the status of walk-in appointments.
Advising for the following programs:
- English
- Creative Writing
Location: 208 Stong College
Drop-in Times:
Thursday 10:00 AM – 12:00 PM
Thursday 1:00 PM – 4:00 PM
Appointments can also be booked by phone: (416) 736-5222 in 103-Central Square throughout the week (Thursdays excepted)
Advising for the following programs:
- BA – Information Technology
- BCOM – Information Technology
Location: 3068 Dahdaleh Building (formerly TEL)
Scheduled and Drop-in Appointments available on Mondays and Wednesdays between 9:30am – 4pm.
Please call (416) 736-2100 ext. 40797 to schedule an appointment.
Location: Ross S880
Appointments may be requested by emailing lapssowk@yorku.ca or by calling 416-736-5226
Social Science programs include:
African Studies,
Business & Society,
Criminology,
Health & Society,
International Development Studies,
Latin American & Caribbean Studies,
Law & Society,
Interdisciplinary Social Science,
South Asian Studies,
Urban Studies,
Work & Labour Studies
Location:S737 Ross Building
Phone:416-736-5054
Email: socsci@yorku.ca

DROP INS:
Monday - Thursday 9:00am - 4:00pm
Friday 10:30am - 4:00pm
Sociology
Location:2060 Vari Hall
Open: Monday - Friday 8:30am - 4:30pm*
(*3:30pm in June, July, August)
BOOKED APPOINTMENTS:
Flexible times available. Book online
Location: 103 Central Square
Phone: 416-736-5222 (best to call before 10:00am)
Hours of Operation:
Monday - Thursday* 9 a.m. - 4:30 p.m.
Friday 10:30 a.m. - 4:30 p.m.
*Open Until 3:30 pm on Fridays (July 4, 2019 through to September 2, 2019).
Due to the high volume of advising inquiries during the month of January, we are best able to serve our students through drop-ins on a first come, first serve basis. Booked appointments will not be available from January 6 – February 7, 2020.
We will be open late on Wednesdays until 6:30 p.m. from January 8-February 5, 2020.
Helpful resources: