A great way to meet students and gain valuable experience is to join one of York's over 300 student clubs and organizations. There is a club for every interest, including academic, advocacy, charity, hobby, professional and sports. LA&PS alone has over 40 clubs and student associations for many of the programs in the Faculty.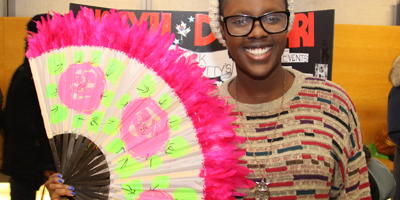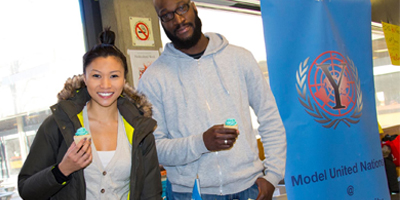 Clubs can help your personal and professional development. Join a club and develop the skills that employers are looking for, such as communication, teamwork and interpersonal skills. As a club member, you have access to volunteer opportunities and you get to meet York alumni and other professionals working in your field.
Clubs can also be a great away to explore your career interests, discover new passions and develop your abilities. Most importantly, clubs enable you to make new friends and to experience York's vibrant school spirit.
LA&PS Club Listings
American Marketing Association (AMA)
E-mail: yorku.ama@gmail.com
Anthropology Students' Association (ASA)
E-mail: yorku.asa@gmail.com
Association des Étudiants Francophones et Francophiles de York (AEFFY)
E-mail: aeffyork@gmail.com
Atkinson Professional Accounting Association (APPA)
E-mail: info@yuapaa.com
Business & Society Student Club (BUSO)
E-mail: busoclub@yorku.ca
Children's Studies Students' Association (CSSA)
E-mail: yorkchstsa@gmail.com
Chinese Students' Association at York (YCSA)
E-mail: info@ycsa.ca
Classical Studies Students Association (CSSA)
E-mail: yucssa@yorku.ca
Cognitive Science Students' Association (COSSA)
E-mail: cossayorku@gmail.com
Communication Studies Students Association (CSSA)
E-mail: presidents@yorkucssa.ca
Criminology Society of York University (CSY)
E-mail: csyork@yorku.ca
East African Students' Association (EASA)
E-mail: ngicharu@yorku.ca
Economics Student Association (ESA)
E-mail: esa@yorku.ca
English - EUSA
E-mail: eusa@yorku.ca
Entre Voces Literary Magazine and Club (EV)
E-mail: entrevoces@gmail.com
Federazione Canadese Italiana (FCI)
E-mail: fci@yorku.ca
Geography and Environmental Studies Club
E-mail: thegessay@gmail.com
Health and Society Student Association (HESOSA)
E-mail: hesosa.yorku@gmail.com
Human Resources Students Association (HRSA)
E-mail: info@hrsayork.com
Information Technology Students Association (ITECSA)
E-mail: itsa@yorku.ca
International Development Association (IDA)
E-mail: yorkida@gmail.com
Italian Association (IAYU)
E-mail: iayu@yorku.ca
Japanese International Students' Association (JISA)
E-mail: jisa@yorku.ca
Korean Student Association
E-mail: eunylv@hotmail.com
Law and Society Students' Association (LANDS)
E-mail: lands@yorku.ca
Linguistics Students Association at York
E-mail: lsay@hotmail.ca
Management Science Students Association
E-mail: yorkumssa@gmail.com
Master of Public Policy Administration and Law Student Association (MPPALSA)
E-mail: nguyen4.jennifer@gmail.com
National Finance Students Association (NFSA)
E-mail: info@nfsa.ca
Portuguese Association (YUPA)
E-mail: yupa_club@hotmail.com
The Public Policy and Administration Student's Association (PPASA)
E-mail: ppasa@yorku.ca
Race, Ethnicity & Indigeneity Student Organization (REISO)
E-mail: edenl@yorku.ca
Social Work Students Association (SWSA)
E-mail: swsa.york@gmail.com
Sociology Undergraduate Student Association (SUSA)
E-mail: ysusa@yorku.ca
Undergraduate History Students Association (UHSA)
E-mail: uhsa.york@gmail.com
Undergraduate Philosophy Association: Philosophia
E-mail: philclub@yorku.ca
Undergraduate Political Science Council (UPSC)
E-mail: upsc@yorku.ca
York University Geography Society (YUGS)
E-mail: yugs_yorku@hotmail.com
York University Mature Students Organization (YUMSO)
E-mail: yumso@yorku.ca